Best Heartworm Prevention for Dogs
If you've been ready my posts, hopefully you've learned that your pet needs parasite protection all year round. Most of us are so disgusted by fleas and ticks that we are ready and willing to protect our pets. However, did you know that heartworm prevention is just as, if not more important?
What is Heartworm Disease?
Heartworm disease is a deadly parasitic infection spread by mosquitoes. If an infected mosquito bites your pet, it may transmit immature heartworms. Then, these heartworms travel through the blood stream until they reach the heart and lungs, grow into their adult size (often several inches in length), and reproduce. It is here that they do their damage and cause heart and lung failure. Once your pet has heartworm, it is spread throughout your community when other mosquitoes bite your pet.
This is what a dog heart full of adult heartworms looks like: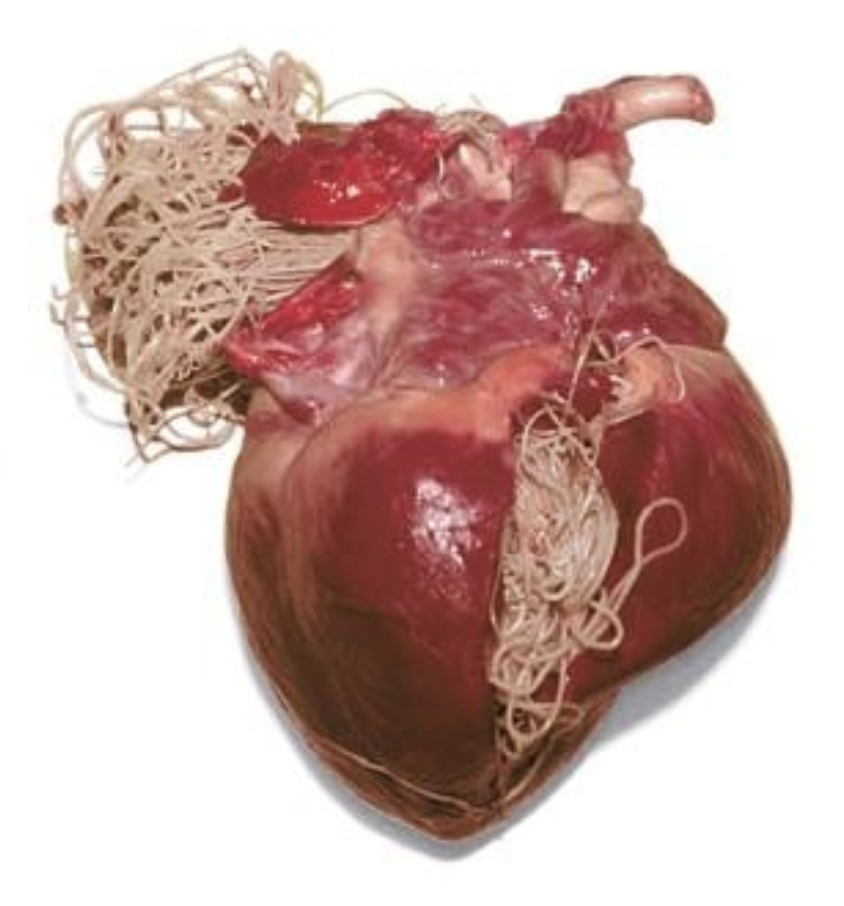 What will Heartworm Disease Do to My Dog?
The effects of heartworm disease include:
cough
tiredness after activity
trouble breathing
heart failure
caval syndrome (a large collection of worms physically blocks blood from flowing back into the heart)
death
Heartworm Testing
The American Heartworm Society, the leading authority on heartworm disease, recommends annual antigen and microfilaria testing. The antigen test detects a toxic substance emitted by the adult heartworm. The microfilaria test looks for immature heartworms in the blood. These tests should be performed once per year by your veterinarian.
Heartworm is On the Rise
Heartworm IS on the rise. Global warming, greater transportation of adoptable dogs across the country, increased travel of our pet dogs, and mosquitoes just outsmarting us may all be to blame. Check out the heartworm incidence comparison maps from the American Heartworm Society.
Top 3 Picks for Heartworm Prevention
All Around Winner: Interceptor Plus
Protects against: heartworms, roundworms, hookworms, whipworms, and tapeworms
Best features: tasty, broadest intestinal parasite coverage
Drawbacks: some pets want a "chewier" chew, this one is a bit on the firm side
Best on a Budget: Triheart Plus
Protects against: heartworm, roundworms, hookworms
Best features: very chewy, cost effective
Drawbacks: no whipworm or tapeworm protection
Best for Pets Who Won't Take Pills: Proheart
Protects against: heartworm, hookworms
Best features: one injection protects for 6-12 months depending on product, may be more effective against resistant strains of heartworm
Drawbacks: possibility for greater adverse reactions than oral products, limited intestinal parasite protection
Side effects
Adverse effects are possible with ANY medication or product for your pet. ALWAYS consult your veterinarian regarding anything abnormal.